Swift & iOS Test
20 questions total, 45 minutes maximum, for mid-level programmers
---
---
Online test includes:
Swift 5 & iOS - 20 Questions
Swift: Value and Reference Types
Swift Miscellaneous: Protocols, Optionals, Properties, Key Paths
UIKit
Foundation
Closures, Memory Management
Grand Central Dispatch (GCD), Concurrency
---
Sample Swift Test Question
Which statements about the following Swift code are true?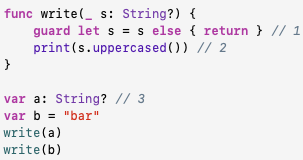 Answers
1. The output will be BAR.
2. It's not legal to reuse the name s on line 1.
3. There should be a question mark after s on line 2, since s is an optional string: s?.uppercased().
4. The value of a is undefined after line 3.
5. Not supplying an initial value is a compile error on line 3.
The correct answer is 1.
Explanation
The key competency is optionals.
The code tests basic optional behaviour – initialization, the guard statement with a conditional binding, scoping rules.
---
Register
Download Sample Report
Made by Professionals
Other iOS Tests
Other Programming Tests