About Online Testing
Why it might be helpful to you
For Business and HR agencies
Our service is no substitute for a live interview, but would save a lot of time by avoiding dialogue with incompetent programmers.
You are probably familiar with the following situation. You invite the candidate for an interview. And after the meeting you're thinking - "I just wasted my time".
We will help you solve this problem.
You only need to choose a test and send it to a job candidate. After he/she finishes the test, you will automatically receive a report in your mailbox.
Then you will decide to invite the candidate for an interview or not.
For Programmers
Test yourself, get a report and attach it to your resume. It will help demonstrate your knowledge and skills during a job search. It's very simple.
Reports
A report provides an overall score (the maximum is 100) and scores for each category in the test (the maximum for each category is also 100).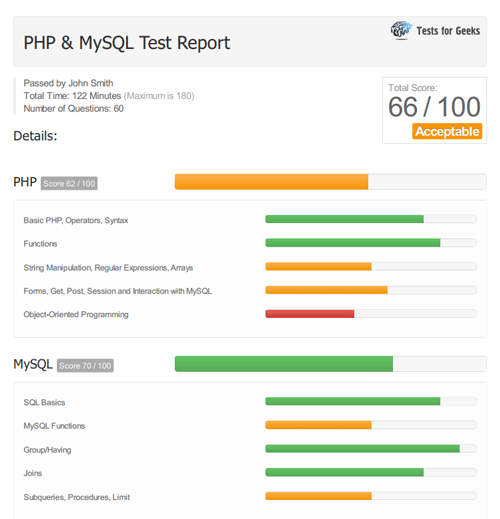 You will get all reports in your email. And also you can find all the reports in your account on our website.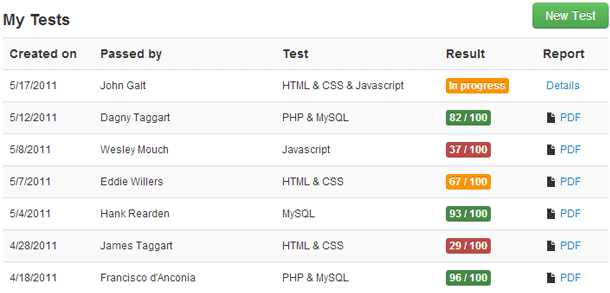 Quality & Quantity
How were we able to create tests of such high quality?
Two reasons.
First, our tests are high quality because our questions are high quality. Our developers painstakingly created hundreds of questions. Then we selected the best of them for our tests.
The second reason our tests are superior is the number of questions included in each test. Our experience has shown that 20-30 questions is ideal for assessing a developer's knowledge of a programming language. For example, the "PHP & MySQL & JavaScript" test contains 60 questions — or 20 for each language.